We're Getting Mutants in the MCU - The Loop
Play Sound
The constitution of the country is a unitary parliamentary constitutional monarchy and royalty, with some functions of representative democracy, like the elected mayors of the 35 provinces. However, as of the last selection book, the country is now a constitutional monarchy.
Spoiler alert!
The following article contains spoilers.
Please read at your own risk.
Illéa is a country that forms around 300 years in the future. It is around 80 years old as of the start of the first book.
It was previously at war with New Asia, but after working on a trade agreement, these two countries are now allies.
Rebels were also a major problem for Illéa.
History
[
]
Foundation
[
]
President Wallis was the president of the United States of America during the Third World War before the Chinese assault. He continued to lead the United States throughout the war. The Chinese army invaded, due to the debts the Americans owed them, which could not pay them back due as they where bankrupt. The United States of America was renamed into the American State of China once China took over. The American State of China was a puppet state of China, which had influence all major political decisions, which they used to steer legislation in their favor.
The American State of China had no allies at this time. The country attempted to liberate itself from China, but was invaded by Russia. Russia began a three front war against Europe, China and the American State of China. It failed miserably. Their losses provided the ASC with a opportunity to rebel against China. The entire continent of North America banded together to fight against Russia, with Gregory Illéa leading the assault.
As the reputation of the United States's was so damaged, no one wanted to readopt that name, instead opting to form a new nation under Gregory Illéa's name and leadership.
Rulers of Illéa
[
]
There have been five sets of rulers since the start of the series.
See the Schreave family tree for more info.
Politics
[
]
Governmental Structure
[
]
The constitution of the country is unitary parliamentary constitutional monarchy, with some functions of representative democracy, like the elected mayors of the 35 provinces. However, as of the last selection book, the country is now a constitutional monarchy. The government is known for enforcing a strict caste system on the population.
The government is unpopular, especially with the lower castes, and insurgents frequently attack the palace. Illéa was left struggling with riots caused by prejudices left in people's mind about the castes. The people blamed the monarchy for their lifestyle and they speak about dissolving the monarchy. However, Eadlyn Schreave announced that the country would become a Constitutional monarchy with a prime minister so that the subjects could have a say in the governmental decisions towards their well-being. Eadlyn asked Brice Mannor to be the interim Prime Minister before an official election could be held.
International Politics
[
]
The country of Illéa is allied with several European countries, and has improving relations with New Asia, who they are at war with at the beginning of the series. It is common practice to have the princesses marry royalty of other nations in the name of diplomacy, while princes have Selections, where they marry an Illéan woman.
Laws, Regulations and State Mandates
[
]
Twice a year, 19 year old men are drafted at random and serve in in either the police or army until they are 23. They are paid for the rest of their life and become a Two but often have to work far away from home, as it is believed they would be too soft with the people from their own province.
There is a curfew in place, although the book does not specify the time this starts at.
In order to prevent the spread of diseases, pre-marital sex is illegal, and being discovered to have engaged in it will cause citizens to be arrested and any child born out of wedlock would be put into the lowest caste.
Society and Culture
[
]
Christianity is still a common religion in Illéa. Several celebrations are held in Illéa, including Christmas, (Chinese) New Year and the Grateful Feast. Halloween was celebrated for the first time since Illéa was founded at the beginning of the series.
The Public Access Channel is the only free channel in Illéa. It is run by the government and is where the Illéan Capital Report is broadcasted.
There is notable prejudice due to caste in Illéa. Society has some more patriarchal elements in the fact women are moved to match the caste of their husband and only men are potential subjects of conscription.
Geography
[
]
Illéa is a country that spans the entirety of what was once North America. The capital of the country and the palace are located in Angeles, where most of the series takes place.
Provinces
[
]
A shortened list of the Provinces.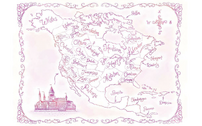 All of the known provinces of Illéa are listed below, alphabetized. There are thirty-five known provinces in which the Selected women and Selected men of the Selection are from.
Allens

[

]
Allens is north of Carolina, and east of Kent. It may contain modern day Virginia and West Virginia. Ashley Brouillette was from Allens. Carter Woodwork is also from Allens, though he currently lives in Angeles. Connor Shannon is also from Allens.
Angeles

[

]
Angeles is believed to have previously been Los Angeles, California. The capital of the country and the palace are in this province. Elise Whisks is from Angeles. Kile Woodwork and his sister Josie Woodwork are also from Angeles. All members of the Illéa's Royal Family live in Angeles.
Atlin

[

]
Atlin may be an area around Atlin Lake in Canada. Amy Everheart was from Atlin. Linde Lockwood is also from Atlin.
Baffin

[

]
It is believed that Baffin is Baffin Island, a Canadian island in the territory of Nunavut. Camille Astor was from Baffin. Arizona Packer is also from Baffin.
Bankston

[

]
Natalie Luca was from Bankston. Holden Messenger is also from Bankston.
Belcourt

[

]
Clarissa Kelley was from Belcourt. Hale Garner is also from Belcourt.
Bonita

[

]
Hannah Carver was from Bonita. "Bonita" means "beautiful" in Spanish, which may indicate that Bonita is a Spanish country. Julian Henry is also from Bonita.
Carolina

[

]
Carolina is believed to be North Carolina and South Carolina combined. America Singer and Aspen Leger and the rest of the Singer and Leger family are originally from Carolina until America got married to Maxon. Blakely Cork is also from Carolina. The lily is the provincial flower, as revealed in the first book.
Calgary

[

]
Calgary is possibly around the city Calgary in Alberta, Canada. Milla Warren is currently the Mayor of Calgary. Mikaela Coveny is from Calgary. Alex Hardie is also from Calgary.
Clermont

[

]
Clermont may be modern day Florida as there is a city in Florida named Clermont and is located near Florida. Celeste Newsome is from Clermont. Fox Wesley is also from Clermont. The daisy is the provincial flower, as revealed in Scenes from Celeste and the first book.
Columbia

[

]
Columbia may be modern day British Columbia, Canada. It cannot be Colombia because of the spelling. Kriss Ambers is from Columbia. Gunner Croft is also from Columbia.
Dakota

[

]
Dakota is believed to be North Dakota and South Dakota combined. Tiny Lee was from Dakota. Brady Linker is also from Dakota.
Denbeigh

[

]
Reeli Tanner was from Denbeigh. Edwin Bishop is also from Denbeigh.
Dominica

[

]
Dominica is believed to be the country Dominica located in the Lesser Antilles region of the Caribbean Sea. Leah Sacks was from Dominica. Leeland Alberts is also from Dominica.
Fennley

[

]
Elizabeth O'Brien was from Fennley. Apsel Berry-Denning is also from Fennley.
Hansport

[

]
Elayna Stoles was from Hansport. Ean Cabel is also from Hansport.
Honduragua

[

]
Honduragua is believed to be the countries Honduras and Nicaragua located in Central America combined. Anna Farmer and Queen Amberly were from Honduragua. Pauly Shelves is also from Honduragua.
Hudson

[

]
Tallulah Bell was from Hudson. Paisley Fisher is also from Hudson as well.
Kent

[

]
Kent may be modern day Michigan and Ohio and is located west of Allens. Marlee Tames is from Kent, though she currently lives in Angeles. The Selected Jamie Turning and Erik (Eikko), the Swendish translator of the Selected Henri Jaakoppi, are also from Kent.
Labrador

[

]
Labrador could have been the province of Newfoundland and Labrador in Canada. Emily Arnold was from Labrador. Jamal Piles is also from Labrador. Labrador seems to include parts of Quebec and Ontario, including Ottawa, Toronto, and Montreal.
Lakedon

[

]
Zoe Peddler was from Lakedon. Lodge Wheaton is also from Lakedon.
Likely

[

]
Janelle Stanton was from Likely. MacKendrick Shepard is also from Likely.
Midston

[

]
Jenna Banks was from Midston. Tavish Plowholder is also from Midston.
Ottaro

[

]
Mia Blue was from Ottaro. Nolan Carr is also from Ottaro. Due to the name, it could be a conglomeration of the Canadian capital city of Ottawa and the Canadian province of Ontario.
Paloma

[

]
Fiona Castley was from Paloma. Jack Ranger is also from Paloma.
Panama

[

]
Panama is believed to be the country Panama and Costa Rica located in Central America. Laila Toil was from Panama. Raoul Silo is also from Panama.
Sonage

[

]
Samantha Lowell was from Sonage. Harrison Driver is also from Sonage.
Sota

[

]
Sota is possibly Minnesota and Sarasota, Wisconsin. Bariel Pratt was from Sota. Henri Jaakoppi is also from Sota.
St. George

[

]
C.C. Lands was from St. George. Burke Renn is also from St. George.
Sumner

[

]
Kayleigh Poulin was from Sumner, which is possibly located in modern day Texas. Baden Trains is also from Sumner.
Tammins

[

]
Emmica Brass was from Tammins. Issir Quiller is also from Tammins.
Waverly

[

]
Waverly is believed to previously have been modern day New York. The word 'Waverly' means "quaking aspen"; which translates to: a poplar tree with rounded, long-stalked, and typically coarsely toothed leaves that tremble in even a slight breeze. Tuesday Keeper and Ivan Plays are from Waverly.
Whites

[

]
Lyssa Bow was from Whites. Kesley Timber is also from Whites. Whites is also in the Alaska-Canada area. They are most likely called the Whites for the snow they have so often.
Yukon

[

]
Yukon is most likely Alaska and the province of Yukon in Canada. Sosie Keeper was from Yukon. Calvin Write is also from Yukon.
Zuni

[

]
Zuni is believed to have previously been New Mexico, as the Zuni tribe used to reside there. Olivia Witts was from Zuni. Winslow Fields is also from Zuni.
Trivia
[
]
The singers Tessa Tamble and Kirstie Summer were popular singers during Prince Maxon's Selection; during Princess Eadlyn's Selection, the band Choosing Yesterday was a favorite of the country. 
You can see here an overlap map: a comparison between the map of modern North and Central America and the map of Illéa.