We're Getting Mutants in the MCU - The Loop
Play Sound
"
Natalie is extremely pliable, and that makes her my father's favorite, as I am too willful in his opinion. The fact that he's so fond of her makes me have to fight the urge to hate her.
"

Natalie Luca was a supporting character in The Selection Series. She was a Four chosen for the Selection. She was also one of the Six Elites.
Biography
[
]
Natalie was a four from Bankston. She worked as a farmer before the Selection. After the Selection, she married and later divorced. She works as a jeweler currently.
The Selection
[
]
During Prince Maxon's Selection Natalie was Selected. She was barely mentioned in the first book. When photographs were being taken of Maxon with the Selected Girls, Natalie was told by the photographer "Natalie, bring your chin down just a touch, please. That's it". Soon after the photographer took the photo and said some things, Natalie stayed beside Maxon and told him something before she "kicked up her foot flirtatiously behind her". After he quietly said something back, she giggled and left.
Natalie didn't wear jewelry one day (along with Tuesday Keeper), because they felt that America Singer was Maxon's favorite - and she often didn't wear jewelry, having more of a plain look. That night, before a taping of the Illéa Capital Report, Natalie and Kriss did a final check on their makeup and walked past America. She found that they looked unhappy (but it wasn't always easy to see with Natalie if she was unhappy, apparently). Natalie and Kriss talked to America about her outfit, Natalie going as far as to touch one of the sleeves and asking about the material, saying that, under the lights, it would shine before Celeste Newsome talked to America.
Maxon chose her as one of his six Elite because "she is a nice girl" and also because Natalie was his father's pick out of the Elite girls.
The Elite
[
]
During The Elite Natalie was shown to be very dreamy and she did not always seem to really be serious. She was kind however to the girls, except for when she thought that America had been scolded - she was happy with the other Elite, but other than that she was shown to always be kind.
For the Halloween Dance, Natalie dressed up as spring and fall along with Kriss for their party costumes.
When Marlee was caned along with Carter Woodwork Natalie looked sick in the crowd and was repulsed along with the rest of the Elite girls who were made to sit in the front row of the caning.
She hosted the German Federation with Celeste and Elise for their project for Silvia. Natalie, along with Elise wore deep respectable blue dress when hosting the German Federation. Natalie accidentally used the wrong flowers which had to be switched out immediately before the German Federation women got to the Royal Palace.
During the visit of the Italians whom America and Kriss hosted, she drank quite a bit and ended up dancing on top of a table doing a dance which America described as "making her look like an octopus".
For the project on the possible future Queen project, Natalie said that all the Rebels should be arrested which made the Queen to be disappointed in Natalie for choosing a project that was already happening.
She left the competition with four other girls remaining afterwards, due to the death of her sister, Lacey, who was killed by Southern Rebels.
Happily Ever After
[
]
After being dismissed from the Selection, Natalie went home to comfort her family over the loss of her sister, Lacey. Natalie had never really experienced hardship before, and this was almost too big a trial for her family to endure. Her parents nearly divorced shortly after Lacey's death, unable to deal with such a horrific loss; but Natalie managed to comfort them, reminding them often of their late daughter's joyful nature and telling them the last thing Lacey would have wanted was for them to part ways because of her. There was plenty of truth to that statement. Many of Natalie's and Lacey's friends came from broken homes, and they both feared the same fate growing up, even though their parents never fought.
Natalie considered it a great triumph that she became her parents' glue and knew that Lacey would have been proud as well. It was after that when Natalie realized she should be happier herself. Natalie's shortcomings in the academic department had been criticized over the years, but Lacey had always reminded her that she was unique and beautiful just the way she was.
By the time Maxon and America's wedding rolled around, she was back to her old ways and was possibly the highlight of the reception, dancing as wildly as she could, completely encouraged by America. Natalie wasn't too heartbroken not to be the new princess. Seeing America's folded hands and taller posture made her realize that she really didn't like the rules that kind of life imposed anyway. She wanted to be herself at all costs.
After the commotion around the Selection died down, Natalie worked in her family's jewelry shop, learning more about design. Her naturally whimsical personality made her great at coming up with designs, and with hard work, she mastered the mechanics of the actual creation process with her father.
About two years after the Selection ended, she launched her own jewelry line, and her fame from the competition gained her lots of attention from celebrity clientèle. Actresses and musicians wore her pieces often, not to mention her dear friend, the queen of Illéa. Beautiful and effervescent, Natalie married an actor and became a Two before the caste system died out. Not long after, they divorced, as Natalie's carefree nature didn't suit married life and she was much happier on her own. As someone who had always hated divorce so fiercely but couldn't bear the confines of the relationship, it was a very confusing time for her. She ultimately came to peace with her decision. Since she was now a Two, she tried out for a few movies, landing several supporting roles in comedies. It was debated how much of her performance was acting.
Natalie spoke with America occasionally, but the person from her Selection days who she communicated with the most was Elise. Even though their friendship was long distance for the rest of their lives, their different personalities meshed well, and they always got together for life's biggest moments.
Relationships
[
]
America Singer
[
]
America thought of Natalie as a dreamer and quite uptight. She didn't trust America because she had red hair.
Maxon Schreave
[
]
Maxon did not really like Natalie. In his opinion, she was nice, but she was his father's favorite and that made him to fight against the urge to hate her. He was not sad as she left the palace.
King Clarkson
[
]
Natalie was revealed to be King Clarkson's favorite competitor, because she was very pliable and Maxon was too willful in his opinion.
Kriss Ambers
[
]
Natalie and Kriss grow together as friends. At the Halloween party, they went together as spring and fall. After Natalie left, Kriss stated that she still thinks about her a lot.
Features
[
]
Natalie has light blond hair and baby blue eyes.
Personality
[
]
Natalie was considered friendly and quiet. America referred to her once as a bit of a dreamer. She also was a little clueless as most people concluded after her presentation saying how rebels should be outlawed, since the Northern and Southern rebels were technically committing treason. Natalie was described to be spacey, carefree and a bit of eccentric. According to Maxon, she is very pliable. She is naturally whimsical and very creative since she makes very beautiful jewelry.
Trivia
[
]
She was one of the people's favorite Selected.
Clarkson liked her because she was very pliable.
In Happily Ever After, it is revealed that she works as a jeweler, and that America has worn many of her pieces.
Meet Natalie
[
]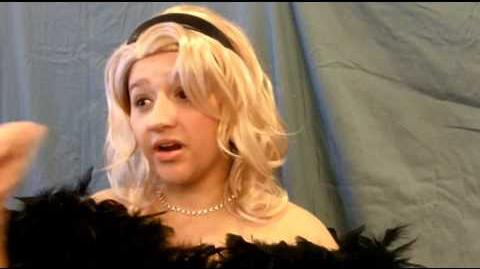 Meet Natalie! The...well, nice Competitor in the Selection!